"Everything in Bateman's "Loose Change" is "off." But wonderfully, intelligently off -- like the off-center way we remember childhood." – Howie Movshovitz, Film Critic
Loose Change: A Memoir of Childhood
Daniel Reskin
(Balthazar Krasnow)
Daniel is a creative fella. He started with stand-up comedy in 2008 and it has led him through acting, hosting, voice over, streaming, podcasting, video production and more. Stand-up remains the backbone to the other creative pursuits, with a curious, kind, and witty style. From being in front or behind the camera, or in the writer's room, Daniel is a valuable voice at the creative table.
Ben Hilzer
(Lenny)
Ben is a Denver-based actor and has been seen in numerous feature films, regional commercials, web-based media, and theatrical productions. Most notably, Ben can be seen as Scott in the raunchy comedy Army & Coop, which is currently enjoying a successful festival circuit, and as Paul in the western dark comedy Rook. Upcoming releases include: Ghosters (Armageddon Films), The Shop (Chamber Piece Films), and YouTube based web-series The Lord of Brees'hya which he stars in alongside his wife, Caitlin.

Kiere Gilbertson
(Samantha)
Kiere is an American actress and figure skater born on February 16th in Denver, CO. She grew up competing in freestyle and ice dance at the regional and national level and holds USFSA gold and silver medals in freestyle, ice dance, and moves in the field. She landed her first role in the Amazon Prime feature film Ice The Movie (2018) utilizing these talents. Her most recent work has included roles in the political comedy web series LAME (2022) as the lead Margaret Masters and the comedic short film The Review (2022) as Emma.

Terry Burnsed
(Ice Cream Man / Pet Shop Owner)
Terry has been a Colorado actor for over four decades.  Favorite stage roles include King Lear, Jack Ketch, Tartuffe, Jean-Paul Marat, Feste the Clown, Casca, Salieri, Eddie in Hurlyburly, and Joyce's Leopold Bloom, among many others.  For the camera, he has played roles in Gwylym Cano's Lovepirates, Minerva Black and the Killer Robot Army, and will be heard as the narrator (with a mold of his face appearing as the corpse) in Richard Corso's Picnic Under a Gibbet.  He has been on the theatre faculty of several areas schools, including MSU Denver and CU Denver.

Erica Sarzin-Borrillo
(The Statue of Liberty)
Erica began her career in NY with a movement theatre company as their leading lady. She taught their course at Cornel, NYU and other East Coast Universities…  Locally, she was last seen at the Arvada Center in Death Takes a Holiday & The Women. New York credits include: Another Part of the Forest, Hedda Gabbler, The Medium by Jean Carlo Menotti and the National Tour of Jacques Brel is Alive and Well and Living in Paris.  A veteran of Denver theatre Ms. Borrillo has garnered several awards from Westword, Denver Post, Backstage, Marlowes, and True West.

Spike the Hamster
(Rodent)
This was Spike's one and only film. Spike lived a good life, with plenty to eat and many tubes to climb through. Sadly, Spike left us at the start of 2022.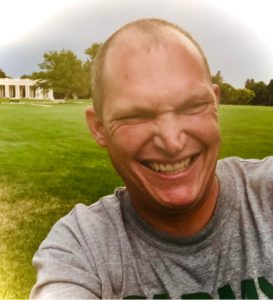 Andrew Bateman
Producer / Director 
Andrew Bateman is Denver, Colorado based filmmaker, sound designer, and educator. Prior to Loose Change: A Memoir of Childhood, Andrew worked in documentary film and multimedia journalism. Currently he teaches for the University of Colorado Denver, Department of Film and Television.
Andrew received a MFA in Film and Media Arts from Temple University and a MA in American Studies from the University of New Mexico where he wrote his master's thesis on the prescient and omnipresent artist Sun Ra.
Jessica McGaugh
Director of Photography:
Jessica is an award-winning independent film director, cinematographer and editor working out of San Diego, California. Her work has been screened internationally including the Mumbai International Film Festival, Denver Film Festival, NDTV and Rocky Mountain PBS. Her feature films "Red Pearl' and "Three Worlds, One Stage" are distributed internationally on VOD and SVOD platforms. Jessica received an MFA in Film from Syracuse University

Yonas Seltene
Creative Consultant / Gaffer
Yonas is an award-nominated cinematographer who grew up in Eritrea. At the age of 12, he immigrated to the U.S to pursue a better education. Yonas fell in love with filmmaking and is passionate about cinema's power to change communities and cultures for the better. Yonas has worked on films that have aired on PBS, Discovery Channel, and National Geographic. Yonas is dedicated to telling artful, socially conscious stories and is working hard toward the goal of improving the filmmaking industry of his country of Eritrea

Jaime Zurzolo
Editor
Jaime is a female filmmaker based out of Melbourne, Australia and Denver, Colorado. She believes that sharing stories and learning about the human condition makes us into who we are. Film challenges, molds, and shapes every fiber of our being. Jaime's goal is to make everyone who watches a film she is a part of feel seen and heard.

Brooke Omerigic
Production Designer
Brooke holds the visual arts close to her heart since the first time she watched sci-fi and fantasy movies with her family. She has an affinity towards horror, sci-fi and drama. She aspires to create (write, direct, production design) TV and movies akin to that which has changed the way she views herself, others and the world.